So...
It was never really my dream to own a home.
To me, a house always represented being tied down, both in a physical place and financially speaking. And I didn't want to be trapped. When we lived in Indiana after college and every other family had a house (we were literally one of two couples we knew at church who rented rather than owned, and it was often a prayer request when a family had to move into an
apartment
temporarily while their house was being remodeled), we resisted steadfastly because we were waiting to see what the future would bring. We wanted to strike out on our own — somewhere — and it was not easy to fight the tide of inertia.
When we moved to Seattle and I was still telecommuting with my Illinois company, I knew that at any time my posh status might end, and so we deliberately chose a studio apartment, one of the cheapest we could find in the city, so that when that day came, we would not be committed to a certain threshold for housing costs that a long delay in new employment would threaten. Sure enough, that day came, and we decided to start our own business, and barely — barely — made it with our cheap-o rent before we started posting in the black. It was our dream to continue to enjoying working from home together, and God blessed us with the ability to do so.
Not too long before Corin was born, we knew we needed to move up in size to accommodate him, and we also wanted to choose a community in Seattle that felt like a real community, one that we'd want Corin to grow up in. That, combined with my deep-seated love for the coast of Maine where my great-aunt lived and where Amanda and I honeymooned, led us to try West Seattle, where the beach of Alki had enchanted us. It was a crazy, deluded dream that we didn't know if we could afford, but we were enamored with the idea of living in the middle of paradise, if only for a time. The promenade along the waterfront is where Corin has spent practically half his life, we take him out so often for walks.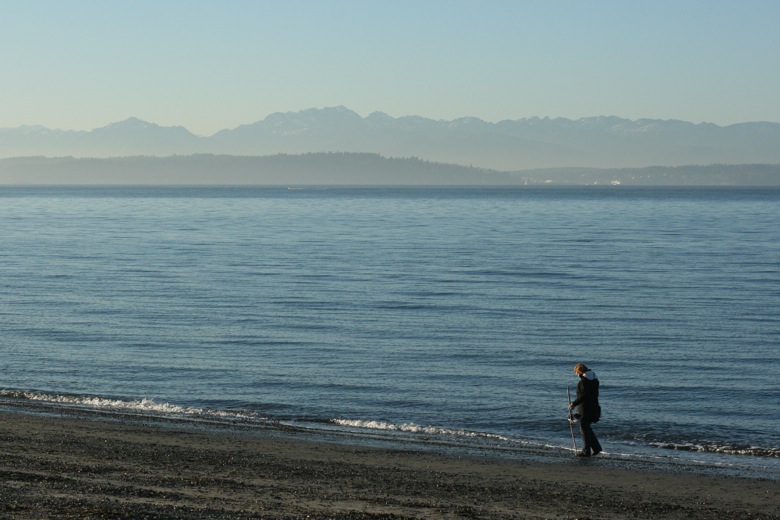 From time to time we'd discuss the idea of buying. Now, we no longer wanted to escape where we were, and we didn't anticipate a complete loss of our employment, so, in theory, putting down roots and committing to housing was feasible. But we knew we could never afford Alki, and the idea of leaving it was so painful. Even if we were to live just a few miles away, we knew we wouldn't pop out twice a day and fight traffic to get to the beach for a stroll. Even if we had to move down in size and price eventually, if funds waned, we wanted to find a way to be near our real home, Alki.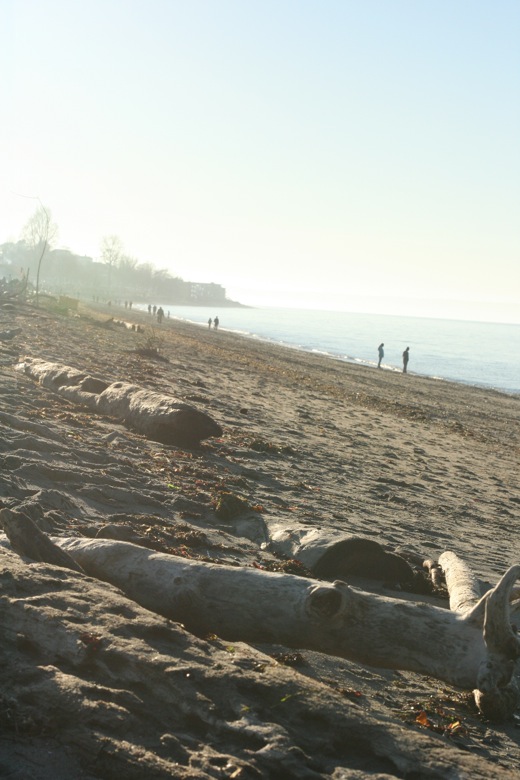 Then, two weeks ago, there was a perfect storm of events. Our landlord, who had been somewhat of a nuisance for the first year we lived here but for whom we bent over backward anyway, since we had little savings to move again and had a newborn to boot, decided to be a nuisance again. (This is another post, but it's really none of her business how much soda we drink, how often we use the laundry room, or how our furniture is arranged.) Every time this happens we look at the apartment listings to see what our other possibilities are, seeing if it would make sense to move — but this time, we had recently received some pre-inheritance money, and on a whim, decided to see what houses might be available. The market has come down so much in the last year — bad news for homeowners and for the economy in general, but not so bad for us. There's also a significant tax credit for first-time homeowners that was part of the stimulus package. Adding it all together, there was a chance, a slim possibility, a hope and a prayer, that we could actually afford to buy on Alki. Not a house, but a condo, or half a duplex; still, a place of our own.
It happened so fast. It was six days from sitting down with the bank to see what our options were, to finding a condo listing we loved, touring other options with a real estate agent, confirming our first instincts, placing an offer, and getting it accepted, just tonight. Our heads are still spinning. There is still the inspection to go through, and paperwork, and escrow, and so forth and so on, where things could potentially unravel, so I don't want to rave about the place in detail until I get those keys in hand. But we are psyched. It's a completely insane thing to commit to, and something I'd never even seriously considered as a possibility for us until just two weeks ago, but it also means that Alki is our forever home. We don't have to worry that our landlord will unload the very expensive property to be torn down for developers. We don't have to worry of rent going up and pricing us out of the area, as happened in the '90s to many renters here. Our future in this place, which always seemed tenuous, like stolen dreams — as if this would be the time in our lives that we'd look back on wistfully — is now visible and tangible (pending paperwork).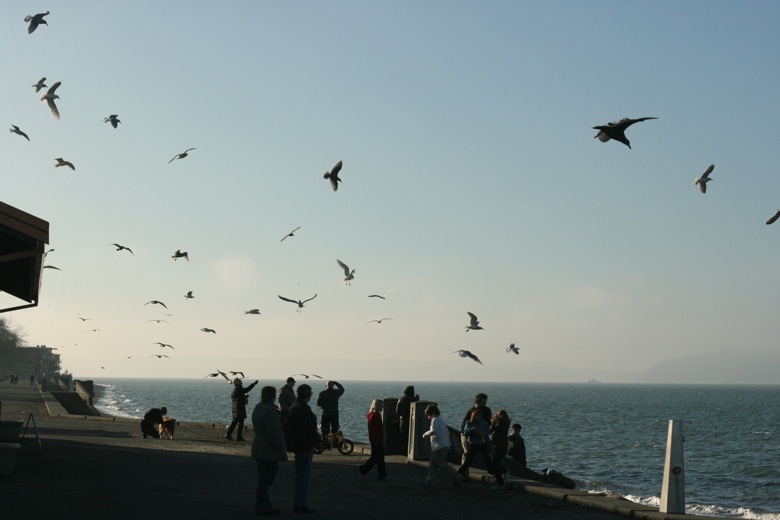 I can see Corin growing up on the playground swings, meeting friends at Pepperdock, skateboarding the promenade, wading in the ocean, living amid the bustle of art fairs and pirate landings and 5K runs. The condo itself will be a nice place for him to grow up in, but, when he returns, after he is grown, it should be Alki itself that stirs his heart. It will be his home. All his life, I hope, he will be drawn to this shore, and its languid blue ocean, as I am.