This post is long overdue — unconscionably overdue. Back in September, when we finally closed on our condo and excitedly posted about the
big day
, I had meant to follow up with a series of thank-you speeches, giving credit and thanks to the people who helped us through the whole insane process. But somehow actually moving got in the way of any long and thoughtful posting, and I never caught up on that. It's time to rectify the situation.
Our real estate agents were
Kristen Meyer
and
Rosemary Pham
, who were at every point our advocates and our warriors. With Amanda and me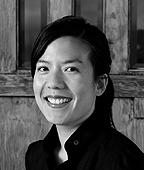 being more the shy, retiring types (especially in areas where we have extremely limited knowledge, like buying a house) we were beyond blessed to have these two in our corner.
We had started the house-hunting process on our own, using online listings to determine what was available in our target area and budget, and had a pretty good sense of which place we wanted to place a bid on. We thought that all we really needed was someone whom we felt comfortable with to actually show us the condo and our few backup choices to confirm our selection, send through the paperwork, and collect the commission. Indeed, it ended up being less than a week before we had met Kristen to when our offer was accepted; we had joked at the time that it would be her easiest commission ever.
Do not joke about home-buying. Ever.
Kristen and Rosemary more than earned their dollars on this one, navigating us through an incredibly difficult loan process, being the grease in the gears as more than one party involved took their time and it looked like things were stalling out or grinding to a halt. They poked and pushed and prodded at the wheels of progress until everyone was doing what they needed to be doing to see the sale through to completion.
Our other tireless worker was
Cristie Stapp at Eagle Home Mortgage
, who handed our loan and
helped us jump through the hoops of the ever-changing legal restrictions in the wake of the mortgage crisis that were impeding the sale. Her vast knowledge put us at ease at a time when we were quite easily and quite rightfully panicked about the whole thing, but we always knew we were in the best possible hands with her, and if the loan hadn't been made with her, that there was nowhere on the planet that it could have been. She saw us through and didn't disappoint, and we were glad that Kristen had recommended her.
What first interested us about Kristen as we were reading through various online profiles of real estate agents was that she had placed
several famous musicians
in homes in Seattle that matched their unique tastes and needs. She seemed to be someone who specialized in the offbeat, in the match of person and home — and while we are hardly rock stars, we felt that we weren't the typical buyers either. Other agents we met tried to dissuade us from our idea of living on Alki, trying to push us toward other areas of West Seattle where we could have a bigger house with more square footage and what might be a better investment value. But we have certain values in life — one is that bigger isn't always better, another is that making a home is more important than investment portfolio, and another is that having plenty to walk to within a block of you is absolutely important since we otherwise tend to forget to get outside the cave. Other agents wanted us to change our priorities and personalities, but Kristen saw us for the eclectics we are and was eager to match us with the perfect place.
As I mentioned before, we aren't the most assertive of people. Often, even when we want something strongly, we sort of float the idea as more of a question into a conversation. A lot of times people take this as mere suggestion, but Kristen was able to listen on the right frequency and interpret our weird style of communication properly. From day one we felt comfortable with her and with her ability to be our proxy and representative in all negotiations and arm-twisting, applying all the leverage we ourselves are unable to muster.
Kristen was always there to be a listening ear as well, letting us talk through frustrations, but never letting us wallow in them, always presenting a series of options for the next step. I was unprepared for how much of an emotional wringer the home-buying process is, but we never had to feel awkward or tentative around Kristen or Rosemary or to hide our insecurities. As first-time homebuyers with jitters, we felt completely safe letting them guide us through the emotional roller-coaster.
Rosemary works in tandem with Kristen, sharing clients together and taking over for each other when the other is on vacation. Kristen actually ended up being on vacation just a day or two after our offer was accepted, and Rosemary took over rather early on. I had thought we might need to re-explain a lot of things with a new person and catch her up to speed but she was completely in sync, not only with the business stuff but all about us as people, too. They work together in sympatico so well that I never had to worry that we'd be on a different page with Rosemary than with Kristen. I suspect some sort of psychic link-up.
What we most appreciated in the end was the amount of personal attention. Not only would both Kristen and Rosemary be available at a moment's notice to talk or answer questions — we never once had to leave a message that we felt floated away into the ether like with many of the other people and companies that we had to deal with in the process — but they were also proactive in calling us and seeing how we were doing and if we needed anything. I had expected that whoever we chose as agents would satisfactorily complete what the job required, but Kristen and Rosemary went beyond the job description and became coach and counselor, too. It never felt like a raw business transaction, but a journey we were on together, with them guiding the way. Anyone who sees you through tough times with grace and humor is going to earn your respect and trust, and Kristen and Rosemary have ours. If you are looking for a real estate agent in Seattle, they come with our unqualified and enthusiastic support.